THE STORY OF
L'HYDROPTERE 2.0
A human and technological adventure
II: BIRTH AND LIFE OF
L'HYDROPTÈRE
1984 The Éric Tabarly - Alain Thébault meeting
In 1984, Eric Tabarly met a young sailor, Alain Thébault. The latter was very interested in the idea of flying a racing boat. Éric Tabarly obtains Alain Thébault's attachment during his military service and the two men begin to work with Alain de Bergh, starting again from the flying option that had to be abandoned for the Paul Ricard. At first, towed models, made by Alain de Bergh's son, Christian, were tested in the grand canal of the Château de Versailles. Then came the radio-controlled models.
1992 French industry mobilizes
In 1987, thanks to financing from Dassault Aviation, a 1/3 scale model in composite materials, including carbon, is built. It took Alain Thébault 4 years, depending on the funding, to perfect it and obtain a stable flight in as many gaits as possible. In June 1991, the 1/3 scale model is exhibited at the Paris Air Show and generates a lot of interest. In August 1992, Eric Tabarly gathered a committee of industrialists and decision-makers at his home in Bénodet and convinced them to embark on the adventure. Dassault Aviation, DCN (Naval Group), Matra, CNES, Dassault Electronique, Chantiers de l'Atlantique, Brochier SA (Hexcel Composites), the Pays de la Loire region and the French Ministry of Research and many others all joined forces to build L'Hydroptère.
1994 The first flight of L'Hydroptère
In September 1994, L'Hydroptère is launched in Saint Nazaire and on October 1st, the first flight is made offshore of Saint Nazaire. she flies well and she flies fast! Too fast, perhaps, compared to the dimensioning of her structure... The more the speed increases, the more the lateral beams and the foils are solicited. The efforts are huge, way beyond our expectations. The first breaks quickly appeared: the rear foil at the end of 1994, then a lateral beam a year later.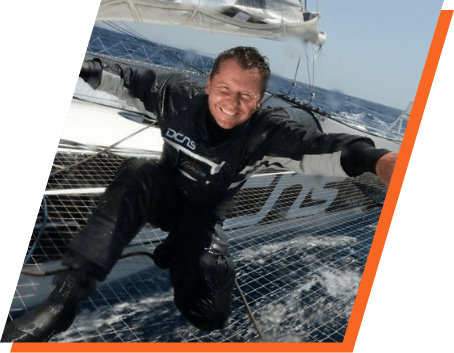 2005 Reliability and first record
Aerospatiale (Airbus) then embarked on the adventure and the Nantes Airbus factory made new lateral beams whose structure is derived from the new carbon structural keel beams used on the A340-500-600. New carbon and titanium foils derived from Mirage 2000 jet fighter vertical stabilizer are made also on. then, almost all the aluminium fittings are replaced by titanium. This system will be completed in 2004 with force limiters, a kind of shock absorber, derived from the Rafale Marine's landing gear: installed on the strut that maintains the lateral foils at 45°C in relation to the lateral beams, they can absorb forces until 60 tons and thus limit the risk of breakage. The contribution of these aeronautical technologies to L'Hydroptère, which is now even closer to an airplane, has finally allowed it to accelerate and begin to show its potential: on February 9, 2005, she broke the record for crossing the English Channel in 34 minutes and 24 seconds, being faster than Blériot and his plane.
2005 L'Hydroptère saved by a Swiss patron
June 2005, in the middle of a record attempt between Cadiz in Spain and San Salvador in the Bahamas, L'Hydroptère hit a unidentified submerged object (USO) off the Canaries. While the ship was being built in Lanzarote, a major storm hit the Canaries. The storm was so severe that L'Hydroptère, although solidly lashed, broke out of her bows and crashed onto the quay and the rocks, sounding the premature end of the adventure.
While all seemed lost, thousands of kilometers away, in Switzerland, Thierry Lombard, the director of the investment bank Lombard-Odier, decided to save the project and offered help to Alain Thébault and his team. L'Hydroptère was then repatriated to France and a renovation and optimization project was launched.
2006-2011 Hunting for records
In 2006, she is back on the water and the Ecole Polytechnique Fédérale de Lausanne (EPFL) proceeds to the hydrodynamic optimization of her foils, which marks the starting point of a series of records:
On April 4, 2007, L'Hydroptère led by Alain Thébault and his crew broke the absolute sailing speed record with an average speed of 44.81 knots over 500 m and 41.96 knots over 1 nautical mile (1852 m).
In September 2009, the mythical 50-knots barrier, the equivalent of breaking the sound barrier in aeronautics, was crossed. Two months later, on November 8, L'Hydroptère confirmed her status as the world's fastest flying trimaran, with 51.36 knots over 500 m, 50.17 knots over 1 nautical mile and a top speed of 55.5 knots (102.8 km/h).
2012-15 The American Misadventure
In July 2012, L'Hydroptère was transported to California in order to attempt the Los Angeles-Honolulu record, which had been held since 2005 by Olivier de Kersauson on board Geronimo. The attempt will finally take place in June 2015 but the weather window is not good: the record will not be broken. For lack of sponsors and funding, L'Hydroptère will be abandoned in Hawaii shortly after her arrival.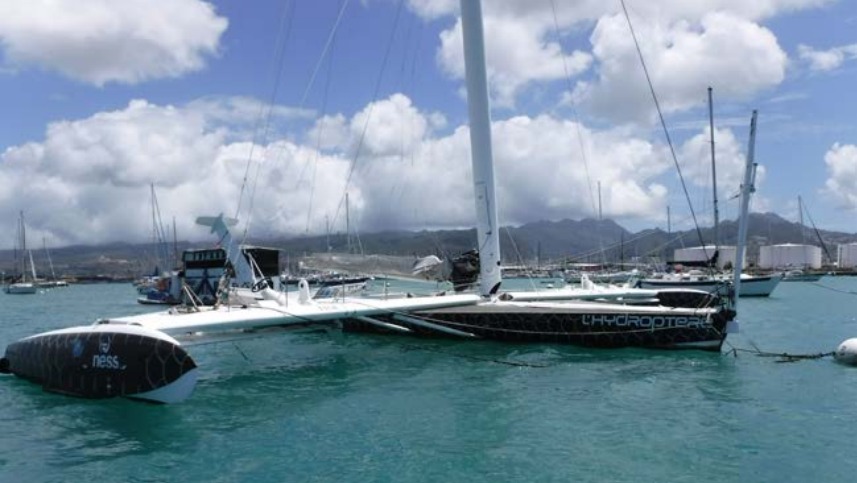 2019 L'Hydroptère's last chance
While L'Hydroptère is abandoned at anchor in Keehi Harbor, a marina with a bad reputation next to the Honolulu airport, the state of Hawaii, which wants to clean up its harbors, ended to impound her and put her on auction. The date of the sale is set for June 28, 2019. This sale is the last chance for the ten or so boats in the catalog before certain destruction.
Relayed by the world of ocean racing, the notice of auction of L'Hydroptère is making the rounds of the internet. Two sailing and technology enthusiasts, one Californian, the other French, will hear what can be considered as the last SOS of L'Hydroptère.
June 2019 Two enthusiasts buy L'Hydroptère
The night before the auction, Chris Welsh and Gabriel Terrasse meet at the Waikiki Yacht Club through trimaran collector Stephen Marcoe. Chris is a businessman and sailor, he has a shipyard in California. Gabriel is not a sailor but have been involved in the 2000s on L'Hydroptere project as webmaster and has a network in France that allows him to find the necessary skills to commission and operate L'Hydroptère. As their profiles are rather complementary, they decide to join forces rather than compete in the auction. And on the fatidic 28th of June at 9:30 am, they became together the new owners of L'Hydroptère.
2019-2023 The rescue of L'Hydroptère and her odyssey from Hawaii to France
If the hulls, the mast, the global structure, the foils, the jet fighter shock absorbers are intact, L'Hydroptère was completely looted of all equipment and fittings during her abandonment: she is an empty shell, everything must be redone on board. This will take several months and on November 2, L'Hydroptère sets sail autonomously to join Chris Welsh's shipyard in San Francisco where she arrives without any major problems 15 days later. During 2020, L'Hydroptère is taken out of the water and completely dismantled. In May 2020, contact was made with the Airbus Technocenter in Nantes, a composite materials R&D and prototyping center, which wanted to help with the salvation and renovation of L'Hydroptère. The Airbus logistics department mobilized and made available its ships which made the Alabama-Saint Nazaire connection for a repatriation. In 2021, two trips will allow the repatriation of all the aeronautical parts of L'Hydroptère (foils, lateral beams, the jet fighter shock absorbers) to the Airbus Technocenter. And in January 2023 inside , the central hull, the mast and the floats arrive in turn with the help of IDEA Logistics, ADKEMA, SECO MARINE (FETIS GROUP). After an odyssey of three and a half years and 16 000 km, L'Hydroptère is finally back in France!
2023 the beginning of a new life of innovation for L'Hydroptère
Since her launch, L'Hydroptère has always been an experimental craft that has evolved many times. So much so that the only element from 1994 still on board is the main hull. This constant improvement has enabled L'Hydroptère to break new ground in high-speed sailing and to pave the way for modern racing boats, which are now almost all equipped with foils.
Innovation is the DNA of L'Hydroptère. And it is quite natural that she will continue her life as an experimental R&D platform by welcoming on board innovative projects and allowing them to develop more rapidly. While the quest for speed is no longer a priority, L'Hydroptère will continue to seek efficiency, recyclability, and sustainability in order to help reduce our impact on the environment.
L'Hydroptère still holds the world sailing speed record in category D (more than 27.8 m² of sail area) and remains the fastest ocean-going sailing boat in the world.
CHRIS WELSH L'ESPRIT
D'AVENTURE
Juin 2019 : la mise aux enchères par l'état d'Hawaii Alors que l'Hydroptère est abandonné au mouillage dans le port de Keehi, une marina à la mauvaise réputation à côté de l'aéroport d'Honolulu, l'état d'Hawaï, qui souhaite faire le ménage dans ses ports, fini par le saisir et le mettre aux enchères. La date de la vente est fixée au 28 juin 2019. Cette vente, c'est la dernière chance de la dizaine de bateaux présents au catalogue avant une destruction certaine. Relayé par le monde de la course au large, l'avis d'enchère de l'Hydroptère fait le tour d'internet. 2 passionnés de voile et de technologies, l'un californien, l'autre français, vont entendre ce que l'on peut considérer comme le dernier SOS de l'Hydroptère.