The legendary flying trimaran. Designed in large part like an airplane, built in carbon and titanium according to the processes and standards in use in the aeronautics industry, L'Hydroptère is capable of withstanding forces of up to 60 tons on its linking arms and sailing at speeds of over 50 knots. It can be used for experiments, to develop and mature technologies in extreme real-life conditions, both in terms of effort and environment.
Masterpiece of Swiss watchmaking, l'Hydroptère.ch is a concentrate of innovations and high technologies. Developed jointly by the l'Hydroptère team and the EPFL (Ecole Polytechnique Fédérale de Lausanne), built by the Décision SA shipyard, which also built the Solar Impulse solar aircraft, l'Hydroptère.ch was launched in 2010. Designed to navigate on Lake Geneva, she will take all the speed records, including the blue ribbon, which she will keep until 2023.
Many companies and consortiums conducting innovative R&D projects do not have a testing and maturation platform. When their innovations leave the TRL4 phase (end of laboratory phase), they must then add to their R&D phase the costly development of a test and demonstration tool or be satisfied with buying or renting an existing platform, not always adapted and sometimes with limited availability.
This is why L'Hydroptère 2.0 offers 2 exclusive and prestigious platforms dedicated to innovation for many sectors of activity (aeronautics, shipbuilding, ocean racing, etc.) and on a wide range of subjects (materials & processes, systems, aging under stress, electronics, monitoring, etc.).
Behind each platform, a human and technological adventure, but also performance, surpassing oneself, records. Well-born machines, ahead of their time and which have known how to evolve. They are always up to date, with exceptional performance that is always unequalled. They are a model of scalability, durability and efficiency and allow experiments to be carried out, test plans to be developed, technologies to be matured in real conditions if necessary, while benefiting from a worldwide visibility.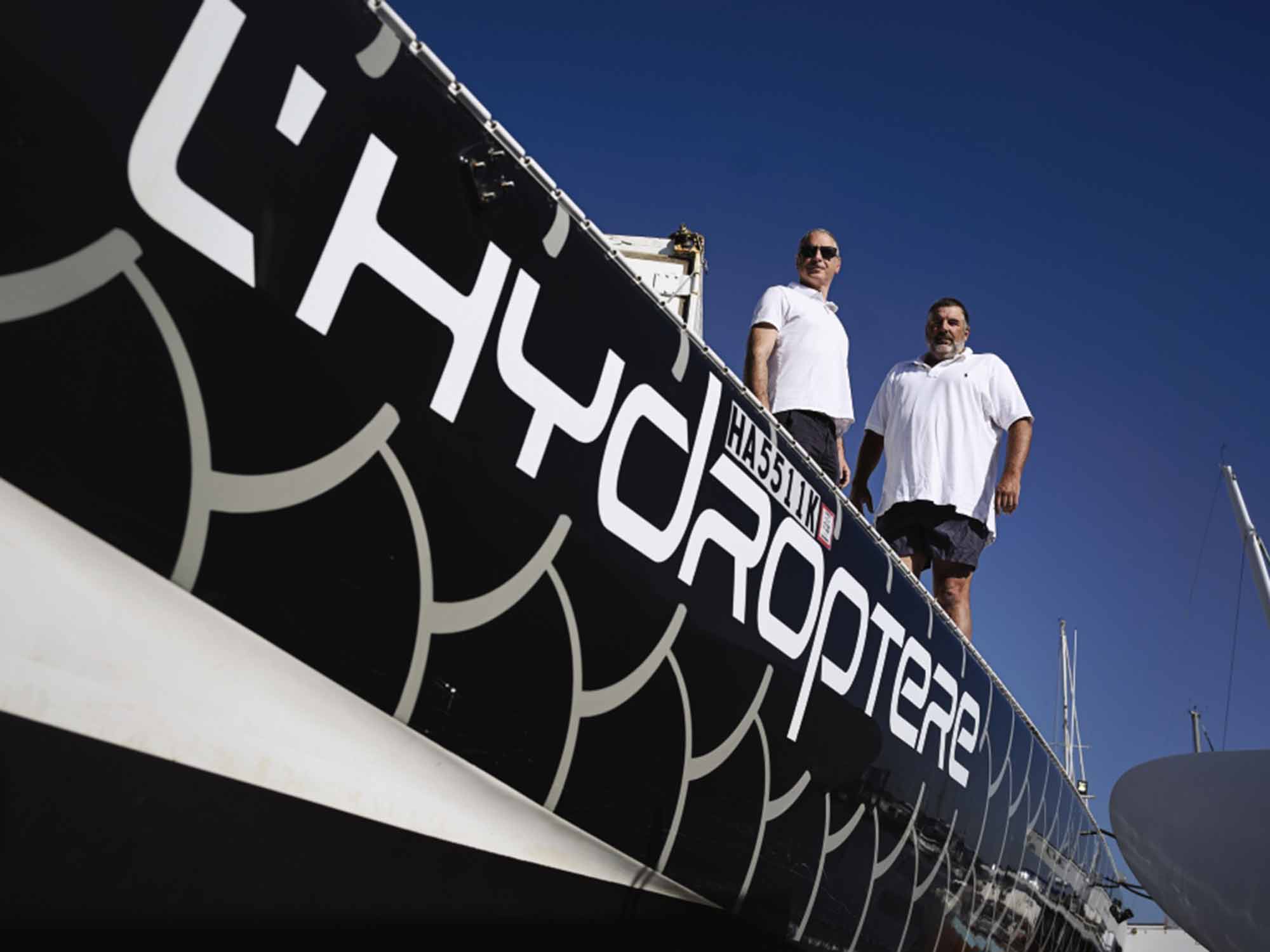 Born from the convergence of the aeronautical, naval and ocean racing worlds, L'Hydroptère and L'Hydroptère.ch are two flying sailboats with an exceptional track record. Their story begins in 1969 with an intuition of the legendary sailor-inventor Eric Tabarly...
The full story
"Between adventure and innovation"